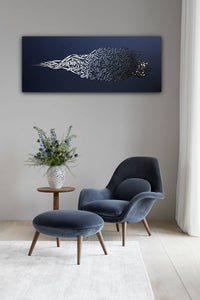 Size: 120X70 (cm)
Raha spent
 3

 months

 

on painting this "Calligraphy Acrylic on Canvas". 
Only 1 is available for ordering

. Raha believes all of her paintings should be unique. All her paintings have IDs with Raha's signature. 

 Original Side softly finish and ready to hang on the wall.

شعر متن ترانه 

با توام ای رفته از دست هر کجا باشم غمت هست 

کاش روز رفتن تو گریه چشمم را نمی بست 

رفتی و دلتنگیم در خانه تنها ماند 

بغض در وا شد تو رفتی غصه اینجا ماند 

 طراحی این تابلو 3 ماه طول کشیده. و دارای شناسنامه و امضای رها عبدالهی است

The lyric of a love song, Raha illustrates the pain and sadness of missing a lover in this calligraphy painting.





Beautiful, breathtaking hand-painted calligraphy of one of the Iranian love song by a young Persian artist. Raha is one of Almaa Galley's artists. Check out Raha's profile and learn more about her art on Almaa Gallery's artist's section.